belle calligraphy with maybelle
EXPERIENCE LEVEL : NO EXPERIENCE NECESSARY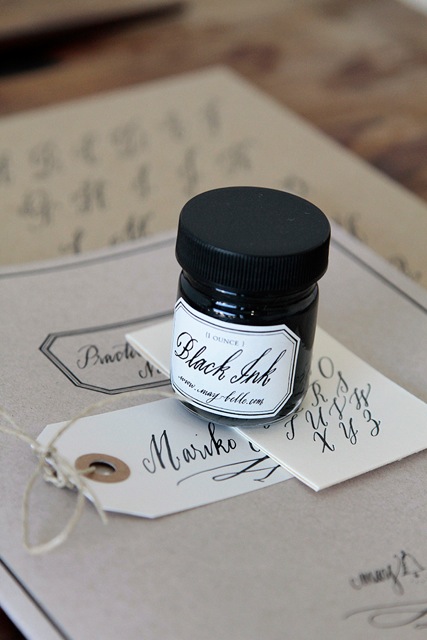 This class is for students who want to learn the modern approach to lettering and calligraphy. It's designed for beginners, however a little of your own practice doesn't hurt. Beautiful type and lettering skills await you, under the tutelage of renowned artist, illustrator, and calligrapher Maybelle Imasa-Stukuls, best known for her recognizable "perfectly imperfect" calligraphy style.
With handwriting becoming a thing of the past, this class will inspire and immerse you in the elegant art of pointed pen calligraphy. The focus will be on learning to hold the pen and make a mark, and less about perfection, and creating a style of your own. You will be amazed at how meditative the process of practicing can be!
Each person will receive a personalized calligraphy starter kit which includes black ink, a pen holder with nib, wooden ink holder and lettering instruction booklet. You will leave with enough instruction and inspiration and materials to continue your practice on your own.
MAYBELLE IMASA-STUKULS

may-belle.com
maybelle@may-belle.com
Artist and calligrapher Maybelle Imasa-Stukuls finds beauty in imperfection, a widely acclaimed and distinctly modern approach to calligraphy. With over 15 years of experience, Maybelle has been commissioned for bespoke wedding invitations, letterpress stationery, and editorial features, exhibiting her elegant and playful signature style for a range of clients. Her work has appeared in Martha Stewart Weddings, Sunset Magazine, Victoria, Better Homes and Gardens, and Brides, and has been featured on Design*Sponge, Besotted, Brooklyn Bride, Oh Happy Day, Snippet & Ink, Sunday Suppers, and Style Me Pretty. Drawing inspiration from botanical engravings, vintage alphabet specimens, and her numerous travels abroad, Maybelle has been known to journey to Paris for just the right calligraphy nib. Her love of ephemera and faraway places inspired a collaboration with Chronicle Books: Belle Calligraphy Kit, Materials and Inspiration for Modern Script. She developed Calligraphy in the 21st Century, a popular San Francisco workshop booked months in advance, as a way to share her passion with the creative community. This year, Maybelle offers the course in some of her favorite cities: New York City, Los Angeles, Portland, Santa Barbara, and Sydney, Australia. Raised in Hawaii, Maybelle lives in the San Francisco Bay Area with her husband and twins.